Monthly Archives:
May 2013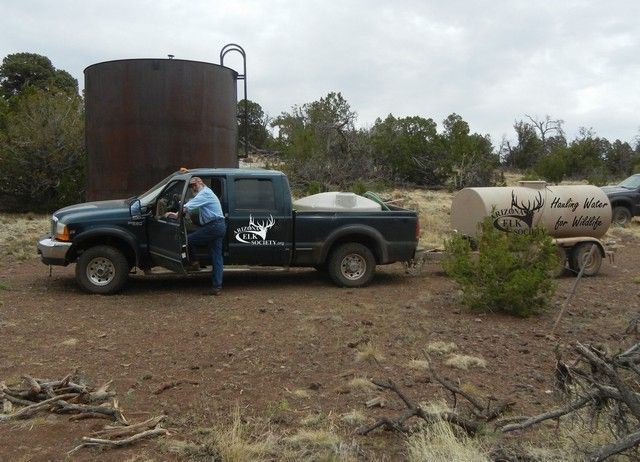 Droughts are cyclical in the United States and Arizona is no exception entering its sixteenth year of a drought that some project could last until 2025. One would think that in a climate that is inherently hot and dry anyway, effects of drought would be minimal. Nothing could be further from the truth. According to the University of Arizona "Drought has both direct and indirect impacts. Direct impacts, which are usually biophysical, may include reduced crop, rangeland, and forest productivity; increased fire hazard; reduced water levels; increased livestock and wildlife mortality rates; and damage to wildlife and fish habitats." In particular, "During a drought, the combined effect of reduced rainfall and increased sunlight creates a number of environmental effects, including:
Soil moisture depletion     Vegetation stress and die-off      More intense wildfires     Degraded wildlife habitat
One study cited "Lack of water, food, and habitat protection may also cause decreased reproductive success and survivorship. During the 2002 drought event, over 80 percent of the existing pronghorn population died, leaving an estimated 21 pronghorn in Arizona. Research shows that annual pronghorn reproduction is significantly tied to winter rainfall.
Lack of water, food, and habitat protection may also cause decreased reproductive success and survivorship. For example, the Arizona Game and Fish Department estimates the endangered Sonoran pronghorn population fell by 4,000 between 1987 and 2000. The pronghorns normally get enough water by eating forbs and other vegetation throughout the year. But when the forage dies due to drought, they congregate in areas near surface water, increasing competition for resources and the threat of predation.
Drought may also cause existing animal habitats to become patchy, isolating some populations. Other populations will be forced to migrate in search of new resources, increasing the potential for human-wildlife contact."
It can be safely said that similar negative effects have been observed in many of Arizona's wildlife species, including other big game species such as elk, deer and bighorn sheep as well.
One of the key wildlife management activities that both agencies and wildlife conservation organizations have engaged in for decades is the maintenance of water for wildlife.  Wildlife water catchments dot the state in strategic locations where naturally-occurring free-standing water is lacking.  These catchments are dependent on rain and snow to fill them so this developments can supply wildlife water when conditions are dry.  When there is not enough precipitation, these developments begin to dry and the wildlife populations begin to stress due to lack of needed drinking water.  Although many of these catchments have been developed in cooperation with species-oriented organizations such as the Arizona Elk Society, recent research has demonstrated that a wide variety of wildlife take advantage of these drinking spots.  In fact, research in southwestern Arizona found that nongame species such as bats and birds use these water sites more frequently than do big game species.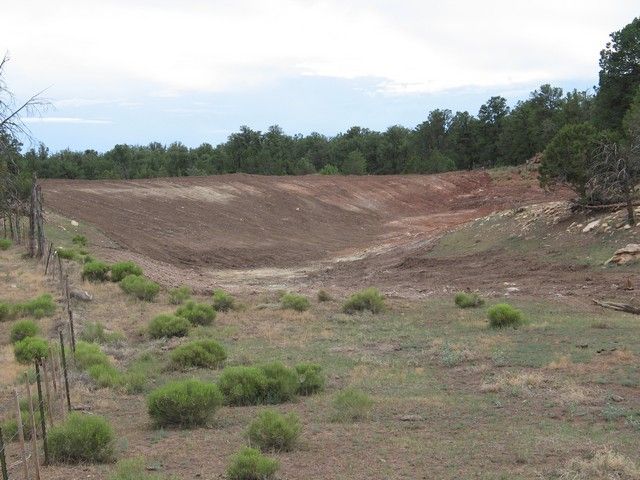 In early April 2013, the Arizona Elk Society started getting calls from Wildlife Managers in the Flagstaff area indicating that the spotty precipitation last winter left many of the essential habitat features nearly dry.  In fact, one of the catchments held a mere 20% of its capacity and it hasn't really began to get hot yet.  It is shaping up to be a tough spring for wildlife needing a drink of water.
Fortunately, the AES has been working with both the Arizona Game and Fish Department and the Forest Service to help haul water and to maintain these drinkers.  When the call came in as an emergency situation, AES began to mobilize and began water hauling to key water developments.  Load after load of water has been delivered to locations identified by the Department as being key to support elk and other wildlife.  Already this spring, more than 20,000 gallons of water has been delivered to refill nearly dry waters for wildlife.  More hauling is scheduled between now and when the summer monsoons come (hopefully they do!).  Another key component of the AES wildlife water program is to repair catchments that are in need of some maintenance to make them function better.  We are planning to help reseal some of the catchment aprons that help catch moisture and funnel it into holding tanks so that the water will be available to thirsty wildlife later in the summer.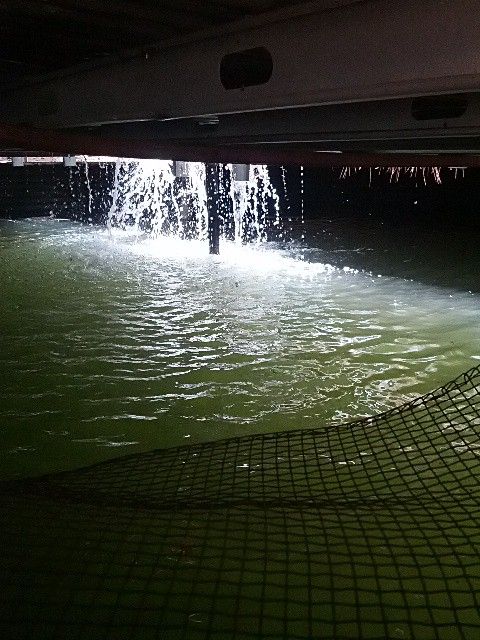 Without the efforts of groups like the AES, the AZGFD just doesn't have the capacity to meet all of the demands of providing water to wildlife.  Our help in these times of emergency are essential to help the agency manage your wildlife.
Wildlife waters are an important habitat feature for all wildlife species.  Although some detractors to this program like to paint the picture that the AES and other like-minded organizations maintain waters solely for elk, the data strongly refute this contention.  Recent research on the topic pointed out that in one study area, the number of non-hunted species that use these habitat features outnumber the number of hunted species that visit.  AES is the frontrunner of organizations that work with agencies/landowners to improve water availability during times of drought to ensure that elk, bats, birds, amphibians and others have access to reliable water to ensure their survival.  In 2012, we expended nearly $80,000 and created new storage capacity of about 5.0 million gallons of water for wildlife.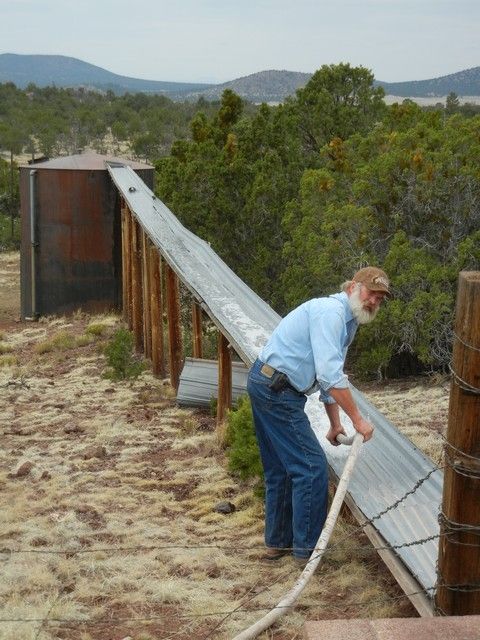 So how can the public help Arizona wildlife in this war against the drought? Volunteer. You don't need to be a member of the Arizona Elk Society to assist on our projects. If you have a love for Arizona wildlife, and have some time to spare, we can use you. Projects are efficient, fun and well-organized. Chances are you'll make some new friends and eat some awesome meals in some truly beautiful country. You'll come away from a project knowing that you have made a big difference that will immediately impact wildlife in that area. Not only does the AES haul water, but they install and build tanks, guzzlers and other mechanisms to provide water. They repair existing water tanks and drinkers.  Many tanks have fallen into disrepair or simply have become full of sediment. A project that simply removes sediment from a tank can increase the capacity of that tank by tens of thousands of gallons! Some of these water features are a cool engineering feat, using "aprons" to capture rainfall and diverting that accumulated rain to holding tanks which in turn feed the drinker. Drinkers are usually constructed so other animals can access them easily as well. Some are merely big holes or "dirt tanks" which are relatively low maintenance. They aren't as efficient at holding water, but are simple and can be relatively inexpensive. Volunteers are critical in the installation and maintenance of these water tanks and drinkers. The drought is making this work even more critical. In an effort to get more work done this year the Arizona Elk Society is using social media to gather volunteers in the areas that we will be working on water catchments. AES President Steve Clark points out that "There are many sportsmen and women that care about elk and wildlife that are looking for a way to help, these people can contact the AES through Facebook or our website and get on the volunteer list to be notified of when we could use them.  Having this resource of volunteers will make the AES more efficient and get much more work done and water hauled for wildlife."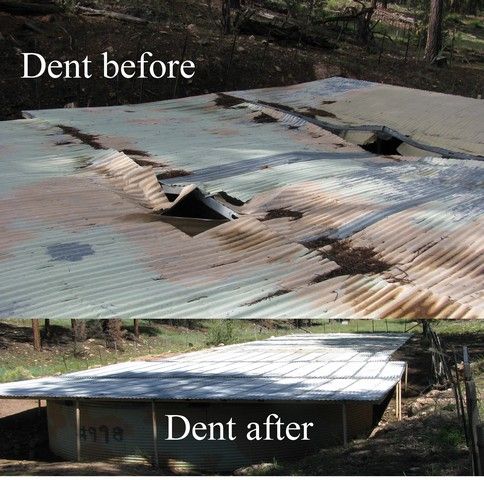 If you don't have the time to volunteer, there's another way you can help. Money. These projects can be in remote areas requiring specialized equipment. Repairs can require an abundance of materials. Food, safety equipment, fuel and other logistical support for projects can be expensive. Cash s desperately required to support the ongoing efforts of the Arizona Elk Society in helping wildlife beat the drought. Even the smallest donations help, and donations are tax deductible as the AES is a 501c3 organization.
This is important, meaningful work that has an immediate impact. Kids can help, older folks can help. Youth groups and other organizations can help. You don't have to be a hunter. You just need to be somebody who wants to make a difference with Arizona's wildlife.
Here's a challenge. Try it once. You'll be hooked.